Product Description
LFS-MSP80R is a mini solar power system. It can provide power for all kinds of 12V&5V electrical appliances, such as DC LED,mobile phone, digital products. Built-in music player can play your favorite music, radio can clearly get lots of channels. Complete functions,simple operation for easy use, no need complex installation, plug and play.
Configuration
● 3pcs DC12V outputs, 6A in total for DC appliances;
● 2pc DC5V/2A outputs socket for mobile;
● 1pc SD disk socket for music player;
● 1pc USB socket for music player;
● Music player and FM radio,FM 87.5MHz-108.0MHz;
● Louder speaker.
Structure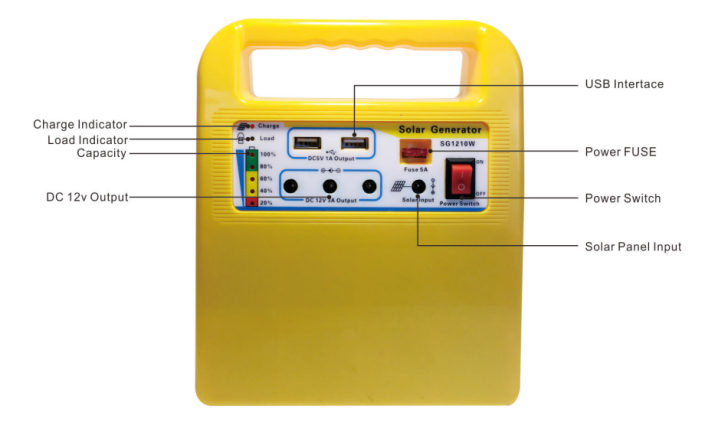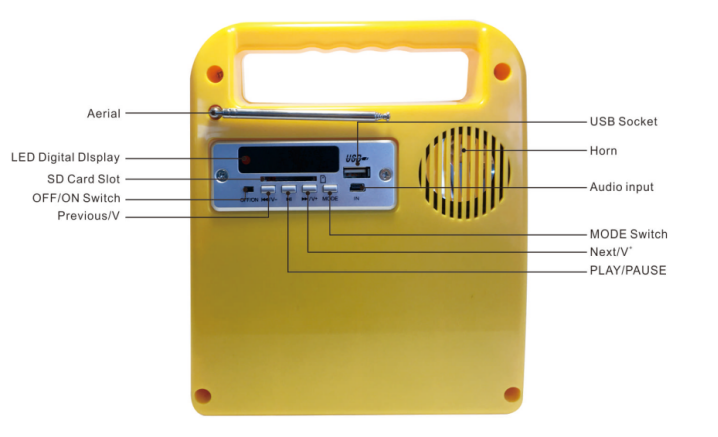 Function & feature
1. MCU control(Micro Unit), PWM type charging work with in advance charging and discharging control algorithm. It can effectively prolong the service life of battery.
2. Offer 12V and USB DC 5V outputs interface to charge all kinds of DC appliances.
3. Lighting system as well as entertainment tools. 3pcs 12V outputs for lighting, 2pcs 5V USB outputs for mobile charge,1 pc SD disk socket, built-in FM radio can clearly get lots of FM channels.
4. Multifunctional protections, such as over charging protection, over-discharging protection, short-circuit protection.
5. It can direct start charging function without turn on the main switch, it can ensure the low self-consumption.
6. All kinds of indicators can real time monitoring the system. 5 battery capacity indicators, LVD indicator, charging and over loading indicators.
Specifications
DC output

3pcs DC12V outputs, 6A in total

2pcs 5V/2A USB outputs

Built-in battery

7Ah/12V maintenance free lead acid battery

Solar module

10Wp/18V

Full charge time

14 hours

Discharge time

Discharge time depends on the loads

Max charge current

2A

Rated discharge current

3A

System voltage

12V

Input charging voltage

Voltage of solar panel≤25V

Over-voltage protection

14.2V

Lift charge voltage

13.8V

Short-circuit current

6.6A

over-discharge voltage

11.1V

Control ways

MCU control (Micro Control Unit)

Work temperature

-10℃~+55℃

Protection functions

Overcharge, over-discharge ,over load, short circuit protection