LFS-MSP200
SolarPower System
Product Decription
LFS-MSP200is one of our solar power system. It is recharged by solar power or by elctricpower. It is used to support home illumination and household electricalappliance, such as TV, fan, computer, mobile phone, etc. It is a good choicefor the families without stable electric supply.
Advantages
● This system has DC12V/DC5V and AC220V/110V output
● Built-in high frequency pure sine wave inverter
● Multiple protection:over loading, short circuit, over heat, overcharging and low voltage protection
● Battery and solar panel capacity can be customized.
Constructure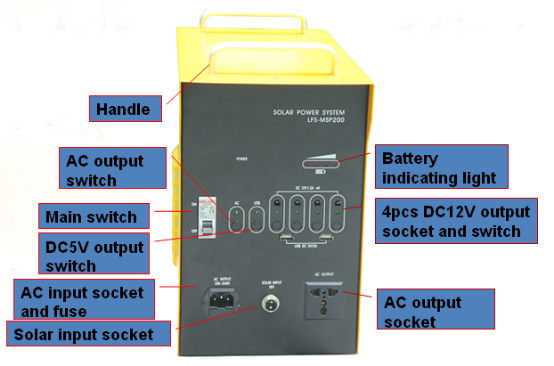 TechnicalParameters
Component

Parameter

AC/DC Inverter and charging

DC input voltage

DC10.5V~DC15.0V

AC input voltage

AC176V-264V(220V system model)

Max permanent output

200W

AC output voltage

AC110V or AC220V±5%

The waveform of AC output

Pure sine wave

AC output frequency

50Hz/60Hz ±1Hz

Shut off voltage

DC10.0V (shut off and recover automatically)

DC overload and short circuit protection

Shut off and recover automatically

AC overload and short circuit protection

Shut off and recover automatically

Heat radiation

Fan cooling

AC output

1 line

AC output rate current

1A(AC100V) / 0.5A(AC220V)

DC Parts

Built in battery

Deep cycling AGM free maintenance lead acid battery

Battery rated voltage

DC12V

Battery capacity

40Ah~55Ah

DC output voltage

12VDC

Max DC output current

1.5A*4 lines

USB 5V output current

2A

Charging

AC Charging method

Built-in charging device

Max AC charging current

15A

Max DC charging voltage

DC15V

Usage of The Machine

Operation ambient temperature

0-40℃

Storage ambient temperature

-15℃-50℃

Operation altitude

≤3000 M

Operation ambient Humidity

0-90%